BLIND SIDE VIEW
News Censored From Americans


Below you will find links to news reports that have been either suppressed
and buried in the main stream media, or censored all together.
Why, how could this be ? Read these reports and answer the questions for yourself.
If you come accross a report you think should be here
please send me the URL
newsworldorder@hotmail.com
SOME OF THESE REPORTS HAVE BEEN REPRINTED ON THIS SITE
WITH A LINK TO WHERE I FOUND THEM.
MOST OF THESE REPORTS ARE LINKS TO THE SITES
WHERE THEY WERE PUBLISHED.
THESE LINKS WILL TAKE YOU OFF OF THIS WEB SITE.
PLEASE USE YOUR BACK BUTTON TO RETURN.




Every American needs to read this artical


and be OUTRAGED !



Police State
By Kelly Patricia O'Meara
If the United States is at war against terrorism to preserve freedom, a new coalition of
conservatives and liberals is asking, why is it doing so by wholesale abrogation of civil liberties?
They cite the Halloween-week passage of the antiterrorism bill — a new law that carries the almost preposterously gimmicky title:
"Uniting and Strengthening America by Providing Appropriate Tools Required to Intercept and Obstruct Terrorism Act" (USA PATRIOT Act).
Critics both left and right are saying it not only strips Americans of fundamental rights
but does little or nothing to secure the nation from terrorist attacks.
Rep. Ron Paul says the text of the USA PATRIOT bill was
not made available for review before the vote.


CLICK HERE FOR FULL STORY

---
On Left and Right, Concern Over
Anti-Terrorism Moves
Administration Actions
Threaten Civil Liberties, Critics Say
By George Lardner Jr.
Washington Post Staff Writer
Friday, November 16, 2001; Page A40
A growing chorus on the left and the right is accusing the Bush administration of ignoring civil liberties while leaving the courts and Congress out in the cold as it aggressively pursues the war on terrorism here and abroad.


CLICK HERE FOR FULL STORY


sent in by mark
t/y

---
When U.S. Joint Chiefs Planned
Terror Attacks on America
By William Cooper
Veritas News Service - Exclusive, Oct. 26, 2001 -- According to documents that were intended to have been destroyed almost 40 years ago, top levels of the U.S. military proposed carrying out acts of terrorism against the United States in the early 1960s, in order to drag the United States into a war against Cuba. These documents take on added significance in light of the Sept. 11 attacks on the World Trade Center and Pentagon, which were clearly intended, among other things, to drag the United States into a "Clash of Civilizations" war in the Middle East.


CLICK HERE FOR FULL STORY

---

Who remembers right after the attack on 9/11
the reports of "inside trading" connected to
WTC incident ? The mainstream media led
us to believe it was Ossama and his gang
making money from the blood of all those killed.
Then, you never heard it mentioned again.

Suppresed Details of Criminal Insider Trading
Lead Directly into the CIA's Highest Ranks!

CIA Executive Director "Buzzy" Krongard managed firm that handled "put" options on United Airlines (UAL) just prior to 9/11/2002 UAL

by Michael C. Ruppert, © COPYRIGHT, 2001, Michael C. Ruppert and FTW Publications, www.copvcia.com. All Rights Reserved. - May be reprinted or distributed for non-profit purposes only.

FTW, October 9, 2001 - Although uniformly ignored by the mainstream U.S. media, there is abundant and clear evidence that a number of transactions in financial markets indicated specific (criminal) foreknowledge of the September 11 attacks on the World Trade Center and the Pentagon. In the case of at least one of these trades -- which has left a $2.5 million prize unclaimed -- the firm used to place the "put options" on United Airlines stock was, until 1998, managed by the man who is now in the number three Executive Director position at the Central Intelligence Agency.


CLICK HERE FOR FULL STORY

---
CIA AGENT ALLEGEDLY
MET BIN LADEN IN JULY
From 'Le Figaro' [1 November 2001]
Translated by Tiphaine Dickson
By Alexandra Richard
(Page 2, October 31st, 2001)
Dubai, one of the seven emirates of the Federation of the United Arab Emirates, North-East of Abi-Dhabi. This city, population 350,000, was the backdrop of a secret meeting between Osama bin Laden and the local CIA agent in July. A partner of the administration of the American Hospital in Dubai claims that public enemy number one stayed at this hospital between the 4th and 14th of July.


CLICK HERE FOR FULL STORY

---
Gaping Holes in the 'CIA vs. bin Laden' Story
by Jared Israel
Below we have posted an article from the 'Times of India.' It reports that according to the BBC program, 'Newsnight,' the Bush administration told the FBI to back off from investigating the bin Laden family's terrorist connections before the attack on the World Trade Center.


CLICK HERE FOR FULL STORY

---
A True Patriot Can Pose Hard Questions
by Robert Scheer
War skeptics such as Richard Gere, Susan Sontag, Rep. Barbara Lee (D-Oakland), Bill Maher and the Berkeley City Council should be congratulated, not vilified, for daring to demur, ever so slightly, from government propaganda. Right or wrong, they have acted as free people in a free society who understand that if our course is correct, it can survive criticism. And if it is not, it is all the more important that we gather the courage to state that criticism clearly and in a timely fashion.
It's shocking that so few have raised doubts and that the ones who have are called wimps, traitors and worse, with their lives threatened by cowards hiding behind anonymous letters and phone calls. It is no badge of courage to blindly accept the actions taken in our name by our government.


CLICK HERE FOR FULL STORY

---
The Truth About September 11
by Barry Siege
The administration wants us to think that this is a struggle over Terrorism, that the issues of the war sprang sui generis on 11 September and were created by a single act of terrorism planned by a single man. Osama bin Laden knows better. George Bush knows better. Here is the real reason.
Before we can determine the motives and agendas of both sides, we must first determine what really happened. The first question is "Why the WTC?" What did it symbolise? What was the significance of this target? Bush says it represented American freedom; many buildings could be said to do a better job. This was a building widely ridiculed by New Yorkers and, other than its size, of no paticular significanace. Yet, twice "Islamic" terrorists attacked it. Why?


CLICK HERE FOR FULL STORY

---
Can Americans Answer These Questions ?
An Editorial From the YEMEN TIMES
I have received dozens of letters responding to my last week's column entitled "Mounting Anger". Most -but not all- of those letters tried to explain to me that the attacks are "not against Islam, but against terrorists." Some of those letters accused me of "propaganda" and opposition to the USA.
I dedicate this column to all those readers whom I would like to thank for taking the time to write to me.
Here is where to start. First of all, I did not say that the US-led strikes are against Islam. I said that the public is slowly understanding that they are so, even though I personally believe that the strikes are indeed not intended to be against Islam. But at the same time, I do understand why Muslims are beginning to think that those attacks are against Islam.
The problem of many Westerners is that they take what is said to them for granted.


CLICK HERE FOR FULL STORY

---

---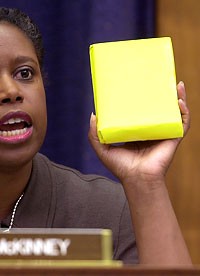 [Click on the left or right yellow package of your choice.]
You are a hungry Afghan citizen.
One of these, dropped by U.S. planes, is a container of food;
the other is a packet of explosives.
Which one do you choose?
From The Emperor's New Clothes
---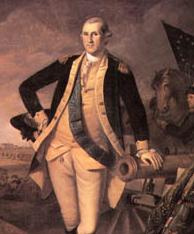 Restore The Republic